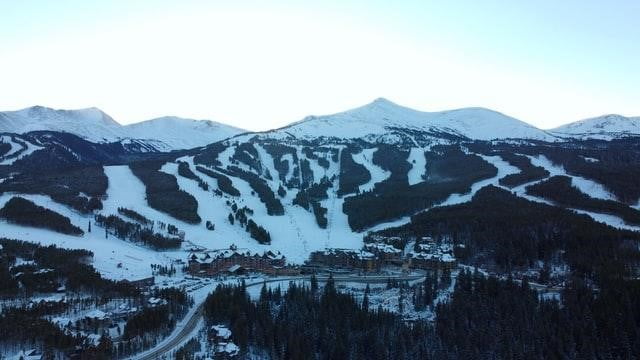 The Mountain
Bluebird Oxygen's original market. Breckenridge has long been recognized as one of the premier ski destinations in North America, and for good reason. Located just west of the continental divide in Summit County, Colorado, "Breck" as it's affectionately referred to, reports some of the highest visitor totals in the Western Hemisphere. Don't let the visitor totals scare you, with 2908 skiable acres, 187 trails, four terrain parks, and the highest chairlift in North America there's plenty of room to spread out and enjoy the 5 peaks that comprise Breckenridge Mountain Resort (https://gobreck.com/experience-breckenridge/breckenridge-ski-resort).
Breckenridge Elevation – 9,600 feet (2,926 meters) | Peak Elevation – 12,998 feet (3,962 meters)
With a base elevation of 9600' and a peak elevation of 12,998' Breckenridge is definitely considered a high-altitude environment, and visitors coming from lower elevations can and do struggle acclimating without the aid of oxygen or medication. With approximately 50% of visitors experiencing altitude-related symptoms Breckenridge is Bluebird Oxygen's busiest market for good reason. Pick your Breckenridge oxygen rental dates HERE
The Town
As ski towns go, Breckenridge is widely regarded as one of the best in the world. With a true main street vibe, legit Apres Ski, and a phenomenal food scene, it's understandable why Breckenridge is so well-regarded. Downtown Breck is full of strong independent businesses with everything from sweets to toys to art. You don't have to be a snowsports junky to appreciate and enjoy the town.
The Lodging
With more than 3 million visitors each year Breckenridge's lodging options are plentiful. As a visitor you'll be able to find everything from studios and lock-offs to luxury resorts and condos. While the standard STR companies like VRBO and Airbnb of course show plenty of inventory in the area we highly recommend you work with a local company with local knowledge and service. With 300"+ of snowfall each year and all the maintenance and necessary attention that goes with it, find a local property management company or resort to spend your money with and you won't regret it. Please check out the "Partners" section of our website to identify reputable lodging providers in Breckenridge like Breckenridge Grand Vacations, Summit Mountain Rentals, Summit Mountain Properties, Alpine Sports and many more.
Breckenridge Ski Resort Website:
Winter Operational Hours:
Open Daily 8:30am-4pm
Breckenridge Consists of 5 peaks, each with its own unique terrain and experience:
Peak 6: Intermediate-Expert, High-Alpine feel, some above treeline runs, with a mix of high-consequence runs. There's hike-to terrain, some tree-skiing on the lower part, and no clogged base area. Hit peak 7 and work your way over for a side-country experience.
Peak 7: Can be divided into a high and a low section. The low section starts at a small base area behind The Grand Colorado on Peak 7 (a Bluebird Affiliate Partner). And consists of corduroy and mellow groomers for the intermediate/family crowd. However, beyond the Independence and Freedom chairs lie the T-bar and Imperial lifts with access to the high-alpine. Of Breckenridge. This area consists of some steep bowls and some short-hike access well worth the effort.
Peak 8: Is the hive of Breckenridge. The Grand Colorado on Peak 8 (the newest BGV property and Bluebird Partner) leads to the Ullr café, Beck Sports, Ticket Windows, Robbie Bar & Grill, and more. You'll find ready access to most of the mountain via Rocky Mountain Superchair, Colorado Superchair, and you can even check-in on the kids over at Rips Ride and the learning area. There's general intermediate groomers, and access to the Imperial lift leading to more advanced high-alpine terrain. Peak 8 is typically the start and end point for Breck days with access to all you need at the base, and lift service to take you wherever you'd like to go.
Peak 9: Is the mellow progression peak. Start low at the various learning areas, mellow greens, with lots of lift access to try the various groomers. Work your way up higher to progress and get better without too much exposure. Peak 9 is where many Breckenridge families learn and improve over the years.
Peak 10: A Bluebird staff favorite. Known for its rock outcroppings, vertical, and natural features Peak 10 is typically less crowded than the rest of the mountain with fun and challenging expert-level features. There's also some bump runs over here if you're into that sort of thing as well.
Resources
Live snow-stake cam:
https://www.breckenridge.com/the-mountain/mountain-conditions/mountain-cams.aspx
Lift & terrain status:
https://www.breckenridge.com/the-mountain/mountain-conditions/terrain-and-lift-status.aspx
Trail Maps:
https://www.breckenridge.com/the-mountain/about-the-mountain/trail-map.aspx
Mountain Info:
https://www.breckenridge.com/the-mountain/about-the-mountain/mountain-info.aspx
GoBreck website:
About our service capability in Breckenridge
We provide full coverage around the town of Brekenridge, with easy delivery access close to Blue River, Silverthrone, and Frisco.
Map of Breckenridge Coverage