About us
We want your stay on the mountain to be incredible.
Our Mission
Our mission is to ensure that your high-altitude adventure is incredibly memorable for all the right reasons. Our goal is to assist you in having an absolute blast on your vacation without concerns of altitude sickness ruining all the fun.
Our Story
Bluebird Oxygen was born out of a disastrous family ski vacation to Keystone, CO in 2018. The resulting medical bills, unused lift tickets, missed ski lessons, and overall trauma were all needlessly frustrating. The availability of supplemental oxygen was not the issue; the problem lay in the lack of awareness among myself and my party. It was evident that the real challenge was marketing. Thus, our simple solution emerged: partner with individuals and companies involved in the Colorado Mountain visitors' journey both before and during their vacation, and empower these partners to educate every customer about altitude-related illness and Bluebird Oxygen's solution.
Josh McCreary
Co-Founder and CEO
Josh is a mountain-obsessed husband and father. As an avid snowboarder, mountain biker, and fly fisherman, he finds joy in coaching and watching his children Reese (12), Mason (9), and Noah (6) explore sports and the outdoors. Before co-founding Bluebird Oxygen, Josh spent 18 years in Medical Sales. His wife Sarah, a labor and delivery nurse, has kept the whole family running on the home-front for the past 6 years.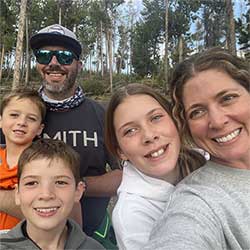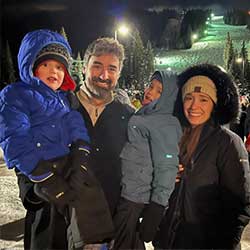 Roger Irie
Co-Founder and COO
Roger grew up in Hawaii skateboarding, surfing and skimboarding. There also may have been a rollerblading phase in seventh grade if we are laying all our cards out. It wasn't until his mid 20's that his then girlfriend, now better half, got him on a snowboard for the first time and the rest is history. He's been chasing the perfect carve ever since.
Roger is blessed with a wonderful wife and two "no pizza, all french fry" boys that enjoy every minute in Summit County. He spent 15 years in the medical device sales industry and is passionate about providing the right solutions for clients.
Steve Stiles
Co-Founder and Chief Executive of Product Design
Steve is a dedicated UI/UX Designer hailing from sunny Florida, where he enjoys life with his loving wife and three energetic toddlers by the beach. While winter activities aren't his forte, his adventurous spirit leads him to explore unique hobbies like mountain unicycling (MUni).
With over 15 years of design experience, he thrives on overcoming challenges and crafting seamless user experiences.