Service Locations
We've got you covered in these areas.
Beaver Creek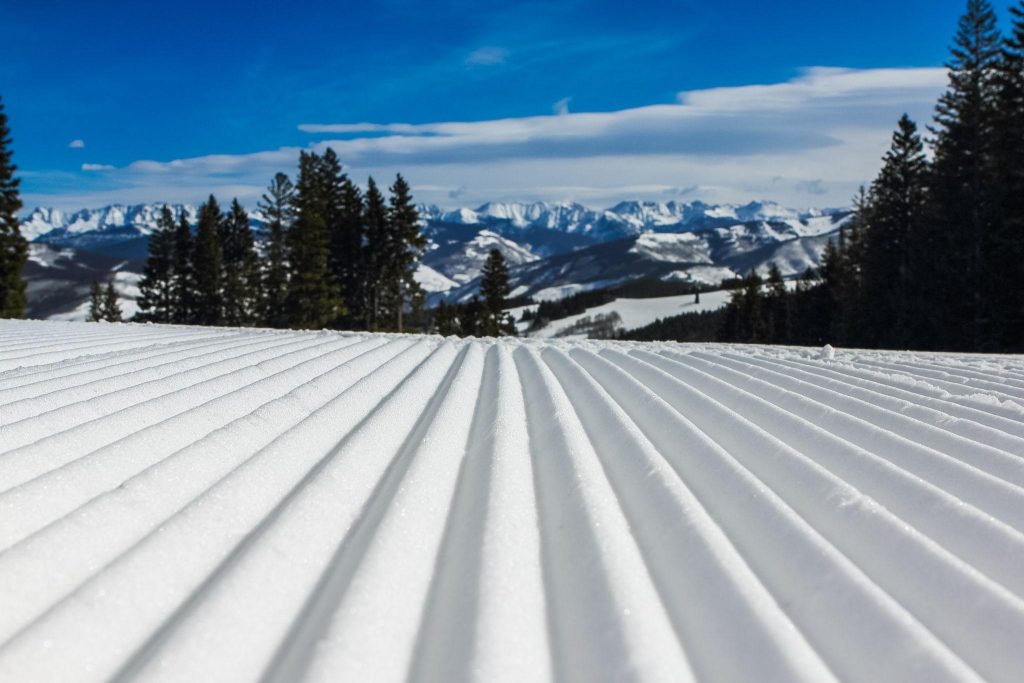 The Mountain
Beaver Creek Resort is forever linked to its neighbor, and bigger brother, Vail. This tie is based on its geography and shared ownership. That said, Beaver Creek is NOT just Vail Jr. With approximately 3,340' in vertical rise and over 2000 acres of skiable terrain Beaver Creek is its own mountain, and quite worthy of a destination ski trip. Average snowfall is slightly less than Vail at 325" annually, but still quite good. As parents, we here at Bluebird would be remiss if we didn't stress how truly dedicated to the family experience Beaver Creek is. We racked our brains, and could not think of another resort in North America more focused on the family experience than Beaver Creek. They literally handout hot chocolate and warm chocolate chip cookies (free of charge of course) at the end of each ski day!
The Elevation
Again similar to Vail, Beaver Creek's base altitude is around 8,100' with the peak topping out at 11,440'. Nearly all lodging for Beaver Creek, including that in the town of Avon, is going to come in at the 8,000' above sea level mark. Low-end estimates put the odds of experiencing altitude sickness in Beaver Creek around 1 in 4. We tend to think the odds are closer to 35% of visitors. With the resort so heavily geared toward families the odds say that for the average family of 4, at least 1 person on a family trip is likely to experience altitude-related illness.
The Town
Beaver Creek Resort is spread among 3 villages. Beaver Creek Village, Bachelor Gulch, and Arrowhead Village. There's no denying the fact that Beaver Creek is on the Lavish end of the spectrum when it comes to ski resorts. This is evidenced by the food, shopping, and entertainment options in Beaver Creek Village. That said, it's absolutely beautiful to see during Christmas, and once again, the kids will find it magical. Beaver Creek has a phenomenal smartphone app to help you navigate the village and find exactly what you're looking for. Check it out at (https://www.beavercreek.com/explore-the-resort/the-village/beaver-creek-village.aspx)
The Lodging
For affordable luxury check out St James Place (https://www.stjamesplace.net/). Other than that, like most Vail-owned properties the lodging opportunities are pretty well endless in Beaver Creek. Lodging is no issue here, although price sometimes can be. Book early if planning a vacation to Beaver creek during a peak time (Christmas, Presidents Weekend, Spring Break, etc). It's tough to find a "Bad" residence in Beaver Creek, but as always we encourage you to reach out to Bluebird Oxygen if you need a little extra guidance.
Breckenridge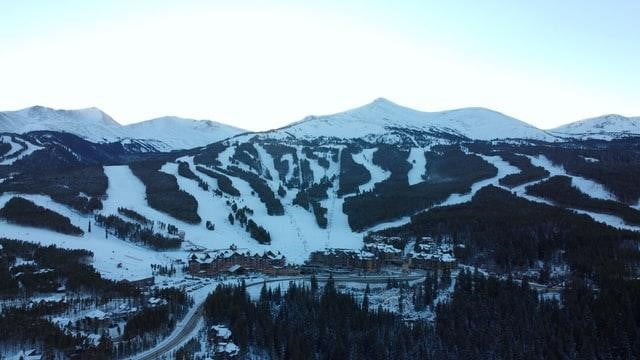 The Mountain
Bluebird Oxygen's original market. Breckenridge has long been recognized as one of the premier ski destinations in North America, and for good reason. Located just west of the continental divide in Summit County, Colorado, "Breck" as it's affectionately referred to, reports some of the highest visitor totals in the Western Hemisphere. Don't let the visitor totals scare you, with 2908 skiable acres, 187 trails, four terrain parks, and the highest chairlift in North America there's plenty of room to spread out and enjoy the 5 peaks that comprise Breckenridge Mountain Resort (https://gobreck.com/experience-breckenridge/breckenridge-ski-resort).
The Elevation
With a base elevation of 9600' and a peak elevation of 12,998' Breckenridge is definitely considered a high-altitude environment, and visitors coming from lower elevations can and do struggle acclimating without the aid of oxygen or medication.
The Town
As ski towns go, Breckenridge is widely regarded as one of the best in the world. With a true main street vibe, legit Apres Ski, and a phenomenal food scene, it's understandable why Breckenridge is so well-regarded. Downtown Breck is full of strong independent businesses with everything from sweets to toys to art. You don't have to be a snowsports junky to appreciate and enjoy the town.
The Lodging With more than 3 million visitors each year Breckenridge's lodging options are plentiful. As a visitor you'll be able to find everything from studios and lock-offs to luxury resorts and condos. While the standard STR companies like VRBO and Airbnb of course show plenty of inventory in the area we highly recommend you work with a local company with local knowledge and service. With 300"+ of snowfall each year and all the maintenance and necessary attention that goes with it, find a local property management company or resort to spend your money with and you won't regret it. Please check out the "Partners" section of our website to identify reputable lodging providers in Breckenridge like Breckenridge Grand Vacations, Summit Mountain Rentals, Summit Mountain Properties, and many more.
Copper Mountain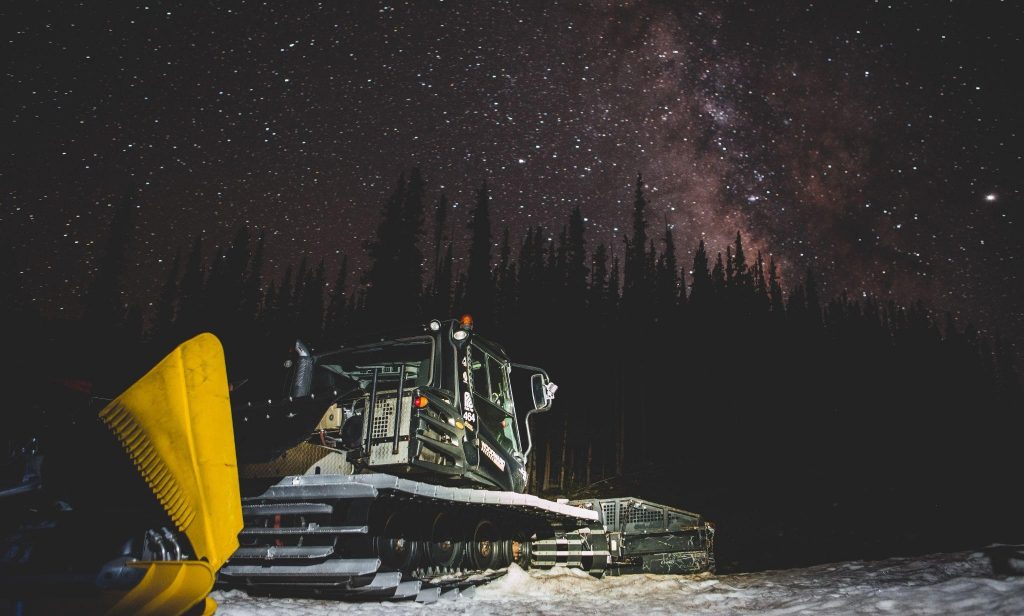 The Mountain
Directly off I-70, located in Frisco, CO is Copper Mountain. Copper is widely accepted as one of the least crowded mountains along I-70 but with some of the speediest and best lift capacities in Summit as well. The resort is spread among 3 mountains; Tucker, Copper, and Union Mountain. With 60% of the mountain north facing and a solid elevation the snow quality and preservation are above average to excellent. Add in the nationally recognized Woodward Parks and Camps for adventure sports, and Copper Mountain becomes a national destination. Copper is a favorite among Bluebird's employees for its non-existent lift lines and all the aforementioned qualities. If you are planning a trip to get your laps in and skiing/riding is your #1 priority, Copper is the mountain for you.
The Elevation
Copper's base elevation of 9,712' makes it the highest in Summit county still offering lodging. While A-Basin comes in at a whopping 10,520' A-Basin doesn't offer on-mountain lodging so visitors aren't sleeping that high. Copper's Peak tops out at 12,300'. Spending the day on the mountain and coming back to your on-mountain or Village lodging will not offer any respite from the elevation…rent an Oxygen Concentrator if staying at Copper Mountain.
The Town
Copper Mountain, similar to Keystone, doesn't have a town predating the resort. As such the resort village is the extent of the town. While it doesn't quite have the character of some of the classic ski towns in Colorado, it does have everything you need for an amazing adult or family vacation. The resort is divided into the east, center, and west villages. For dining and entertainment Center Village is the place to be with plenty of quality restaurants, shopping, and activities. The East and West Villages are mostly lodging with a few dining opportunities sprinkled throughout. Here's a map of the 3 villages with lodging, shopping, and dining options all marked (https://www.coppercolorado.com/the-mountain/trail-area-maps/summer-village-map)
The Lodging One of our favorite things about Copper is the ample quality lodging options all within a stones throw of a speedy lift. Bluebird partners with Copper Vacations (https://www.coppervacations.com/), and we highly recommend you check them out. They have an enormous inventory of quality lodging. That said, if you're leaning more toward the hotel/resort style accommodations check out Element 29 (https://element29hotel.com/) for a more modern take on ski luxury.
Crested Butte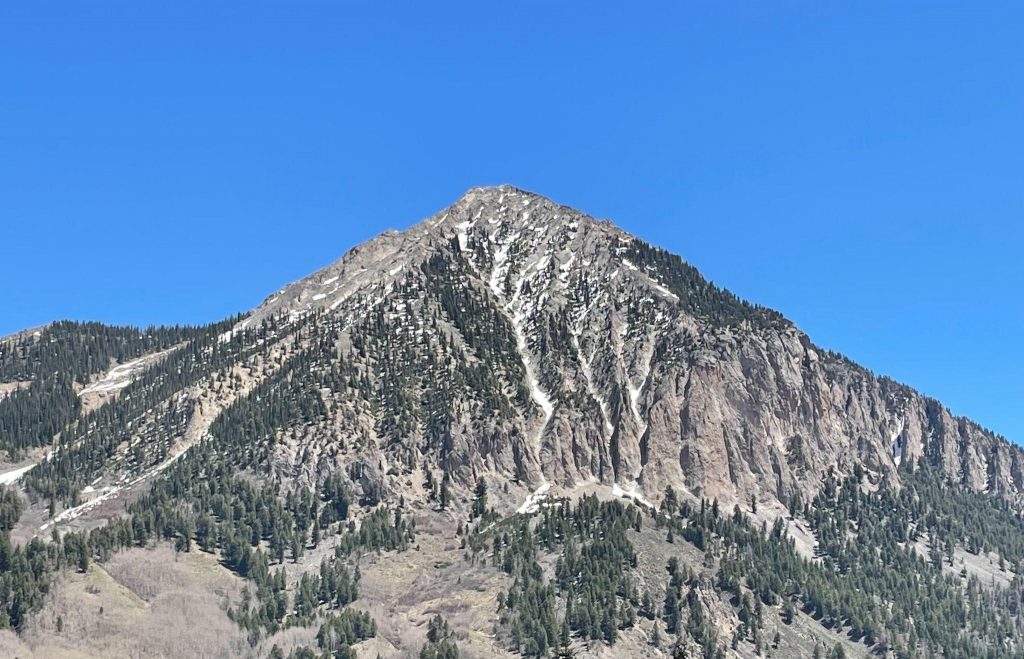 The Mountain
Crested Butte is a new market for Bluebird Oxygen in 2022-23, and a favorite among several of our owners. Admittedly Crested Butte doesn't receive some of the snow totals as other mountains we serve (CB averages 253" annually), and it certainly doesn't rank highest for skiable terrain at just over 1500 acres, but what CB does have is some of the steepest and most technical terrain located within a resort in North America. Because of Crested Butte's steep terrain it's a difficult mountain to cover, and there are season's where the advanced terrain is not able to be opened at all. That said, when the snow-gods and ski patrol align to ensure access to this truly amazing terrain, Crested Butte is hard to beat for a ski destination. Recently acquired by Vail resorts, many worried about what might become of Crested Butte and what's commonly referred to as "America's Last Great Ski Town." Thus far, Vail has played the acquisition perfectly…injecting needed capital to upgrade some long overdue lift repairs/replacements, supporting the community, but remaining hands off in many ways. Unlike many of our other CO markets, Crested Butte and Gunnison County receive their highest number of visitors in the Summer due to their unmatched singletrack and hiking trails as well as Gold Medal fly fishing waters.
The Elevation
Base Elevation of the Town of Crested Butte (not to be confused with the Resort Village AKA Mt. Crested Butte) is 8,909'. The resort village of Mt Crested Butte, where a significant portion of the resort lodging is located, is actually even higher at 9,898' above sea level. Sleeping at close to 10,000' above sea level means more than half of CB visitors experience altitude sickness.
The Town
Affectionately referred to as "America's Last Great Ski Town" Crested Butte is truly that. A down to earth, welcoming, and distinctly authentic mountain town. Eclectic shops and tasty eats line Elk St (the main drag) in downtown CB. There's sweets, pizza, tacos, and one of our staff favorites, pitas. Up the hill in Mt Crested Butte you'll find the usual resort amenities like ski shops, bars, and luxury condos. Somehow, even the luxury spots come off as classy, yet humble. In Crested Butte there's just not the over the top decadence and swankiness you'll witness at some other colorado ski towns. We can't help but wonder: is CB truly America's last great ski town?
The Lodging
One of the first property management companies we contacted when we decided to expand into Gunnison County was Alpine Property Management. We knew them as customers and couldn't wait to align ourselves with a well-respected partner. Alpine PM as expected was immediately receptive and we formed a partnership with owner Shay immediately. Please check out (https://www.alpinepropertycrestedbutte.com/) for a wide array of rentals in the CB market from Shay and her team. If you prefer a resort-style condo one of our owners consistently stays at the Westwall lodge and raves about it (https://westwalllodge.com/). Between the resort lodging in Mt Crested Butte, the town of Crested Butte, and nearby Gunnison or Almont on the river, there are plenty of lodging options for your next CB vacation.
Keystone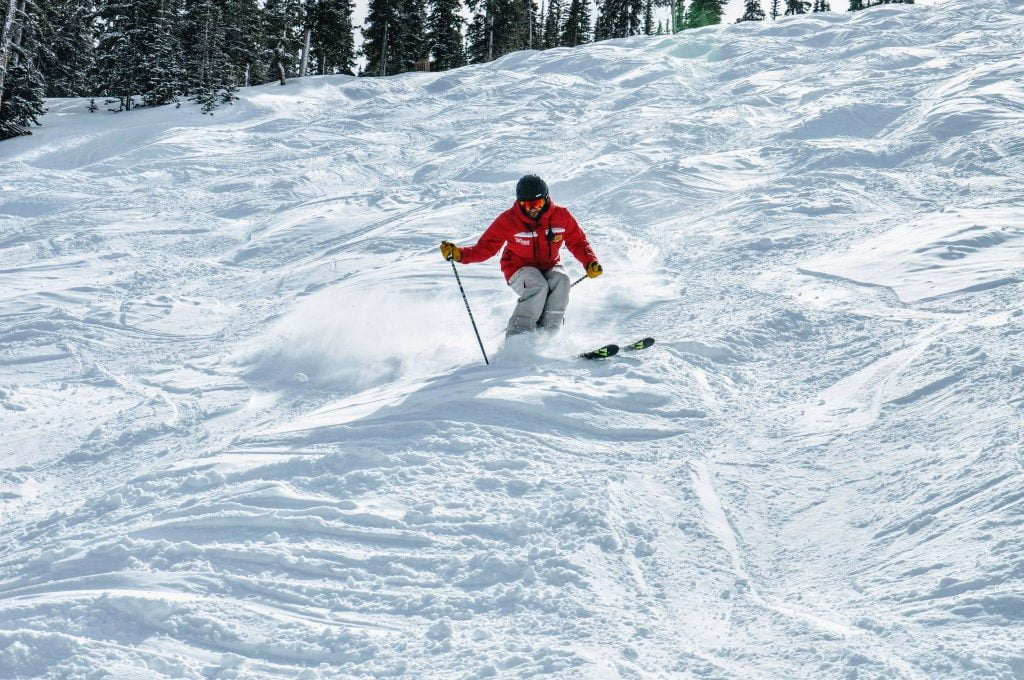 The Mountain
Keystone Mountain Resort located off Hwy 6 in Summit County, only an hour and 15 minutes outside of Denver, is well known for its quality and varying terrain. Despite being one of the more popular and visited Colorado ski resorts, you'll rarely hear complaints about crowds. With over 3,148 acres spread across three distinct mountains (Dercum, North Peak, and Outback), Keystone actually boasts the most skiable acreage in Summit county, 49% of which is classified as advanced/expert terrain. Keystone is known for its variable terrain including steeps, trees, bumps, groomers, terrain parks, side country, and some very nice hike access. They even have some snow-cat skiing.
Elevation
Keystone has a base elevation of 9,280' with a peak elevation of 12,408'. With the town of Keystone being pretty well aligned with the base of the mountain, if you're staying in Keystone, you're sleeping at 9000' above sea level. Ascending more than 3000' in one day most certainly can lead to altitude-related illness so even residents of Denver can have issues sleeping in Keystone. There's a reason Bluebird Oxygen chose Summit County as our pioneering market; rent a concentrator to be safe when staying in Keystone.
The Town
At first glance the town of Keystone doesn't seem like much. Unlike some other famous ski towns there was no real town to speak of prior to the resort. On closer look however there's plenty of quality restaurants and shops to keep the average vacationer satisfied and engaged. River Run Village is one of two primary access points to the mountain, and has plenty of options for dining, shopping, and Apres`. One of my favorite features of River Run is the free parking. Plenty of convenient and free parking as well as free wagon access to haul your gear or kiddos to the base. Dig into this town a little deeper when you arrive and you may just find some hidden gems, it's kind of what makes it so special.
The Lodging
Keystone, like many Vail-owned resorts, has ample lodging opportunities with more in construction currently. Even the "dated" properties at Keystone seem to have aged well and just fit the mountain's vibe. It's pretty tough to find a place that isn't satisfactory in this town. One of our favorite rental providers in the Keystone area is Summit Cove Vacation Rentals (https://www.summitcove.com/). With a large inventory of properties at varying prices and top-notch customer service Summit Cove is where I always encourage potential visitors to start their search.
Vail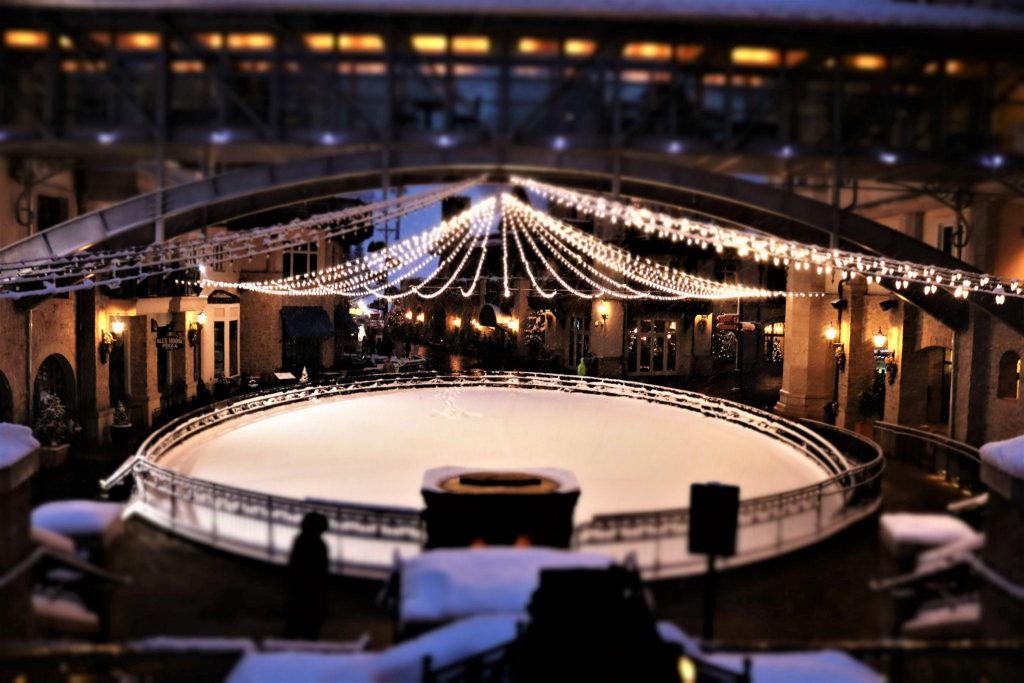 The Mountain
There's a reason Vail Mountain has the notoriety it does…some of the reputation is deserved, some probably undeserved. There is no mistaking Vail is a monster of a mountain offering a variety of visitors exactly what they want. With over 5,317 acres of skiable terrain, 195 trails, and 31 lifts, Vail is as close to a guaranteed ski trip as you get in Colorado. Add in an average of 354" of annual Snow, world-renowned back-bowls, and exceptional snow-making capabilities and it's easy to understand why Vail has the most skier visits of any mountain in North America at over 1.6 million visitors per year. Yes Vail is busy, and yes there is a ton of money/decadence here, but make no mistake, Vail is #1 because of its skiing, and everything else comes second.
The Elevation
With a base elevation of 8,120' and a peak elevation of 11,570' Vail Village's Lodging is not as high as our Summit, Gunnison, or Grand County markets. That said, it is above 8000' which is the universally accepted elevation where altitude-related illness becomes common. Conservative estimates state that 1 in 4 visitors to Vail will develop altitude sickness; it's likely closer to 35%. Bottom line, if you're sleeping in the Vail Village or town of Avon, it's worth renting a concentrator to ensure you don't miss one single moment in this destination.
The Town
While the snow sports in Vail are the primary draw, the town of Vail has evolved into a cultural destination as well. With a sophisticated culinary scene, events like the Vail Film Festival (https://www.vailfilmfestival.com/), Burton US Open (https://events.burton.com/burton-us-open/), and Bravo! Vail (https://www.bravovail.org/) there's loads of events and activities well beyond Apres`. Vail Village has sprawled into two distinct areas over the years, each with its own unique allure. While Vail Village is bustling with activity you may wish to find a more subdued experience in Lionshead Village. Bluebird services visitors of both Vail Village and Lionshead as well as neighboring Beaver Creek. Regardless of where you decide to stay or the vibe you choose, we'll have you covered.
The Lodging
As with all our locations, Bluebird Oxygen has teamed up with local lodging providers to ensure our customers have access to some of the best lodging and customer service in the Vail Valley. Our partner Vail Realty (https://www.vailrealty.com/) manages a wide range of lodging options, including some of the best luxury condos and homes on the market. If you're looking for hotel/resort accommodations check out Four Seasons Vail (https://www.fourseasons.com/vail/) or St James Place (https://www.stjamesplace.net/). Vail has plenty of lodging options to meet a variety of tastes. If you are unsure or need a little guidance feel free to contact Bluebird Oxygen and ask us for more information or suggestions. We're happy to help.
Winter Park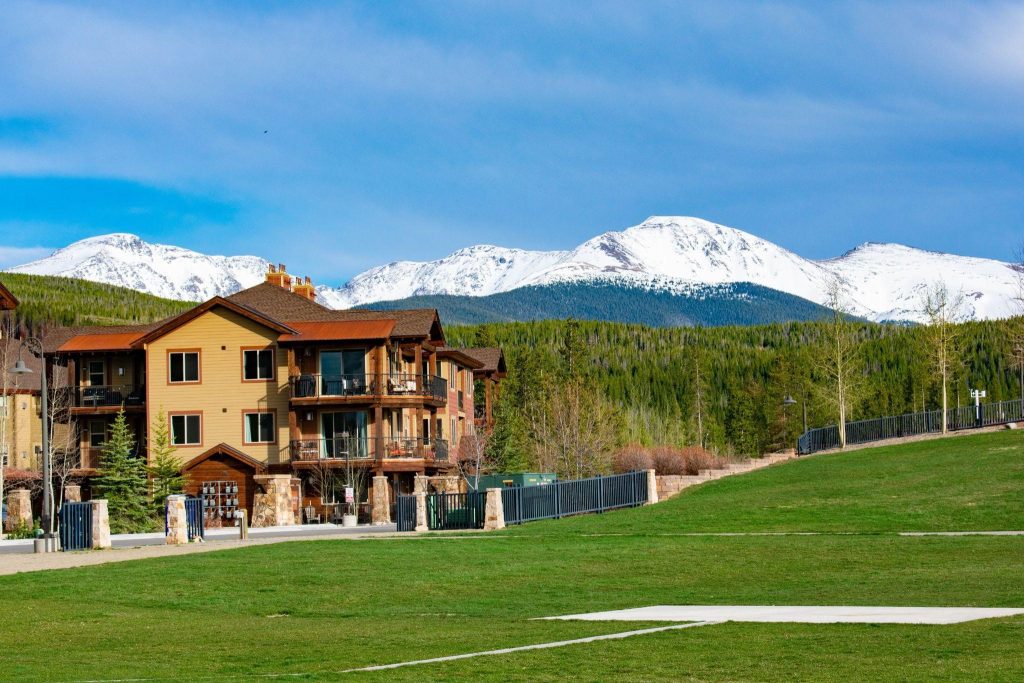 The Mountain
Over 80 years old and recently voted North America's #1 Ski Resort by USA Today's readers, Winter Park is Colorado's longest continually operating resort. Just 67 miles west of Denver in Grand County, Winter Park lands just outside ZRankings top 10 for Best Snow in America at #11. With an average of over 347" in annual snowfall, 3,000+ acres of skiable terrain, and 3000' of vertical rise it's easy to understand Winter Park's sustained success. 23 lifts, including 3 high-speed six-packs, and 1 ten-person gondola, all conveniently spread among two impressive mountains (Mary Jane and Winter Park) means minimal lift lines. For those holidays where lines are just unavoidable, Winter Park boasts over 1200 acres of off-piste terrain begging for you to make the hike.
The Elevation
Winter Park's Base Elevation is quite high at 9,100' above sea level, and the Summit is 12,060'. With a base elevation over 9000' Winter Park is one of the higher base elevations you'll experience in North America…If staying in Winter Park Village, or the smaller town of Winter Park you have around a 50% chance of developing altitude related sickness. Many visitors attempt to combat this by staying in nearby Fraser ( still 8,573') or Granby (7,935'). All of these elevations still present visitors with a high incidence of altitude-related illness particularly Winter Park Village.
The Town
Winter Park Ski Village has the usual amenities for a ski resort. You can certainly find what you need and never leave the village. That said, if you're looking for extended apres fun, and lots of options, the village, downtown, and even nearby Fraser are relatively low key by comparison to some other ski resorts. That said, the unassuming nature of Winter Park is kind of its charm.
The Lodging
Winter Park's lodging options, similar to the town, are modest with a few 3-star options like the Zephyr (https://www.winterparkresort.com/plan-your-trip/lodging/zephyr-mountain-lodge), Winter Park Mount Lodge (https://wpmountainlodge.com/), and the Vintage (https://www.winterparkresort.com/plan-your-trip/lodging/vintage-hotel). For 5-star luxury you'll need to travel about 15 minutes away to Tabernash CO for Devil's Thumb Ranch (https://www.devilsthumbranch.com/) which is absolutely worth the trip. Some may elect to stay in Denver due to the proximity but beware of weekend ski traffic on I-70. Staying in Winter Park, Fraser, or Tabernash rather than Denver could be the difference between first tracks and tracked out.